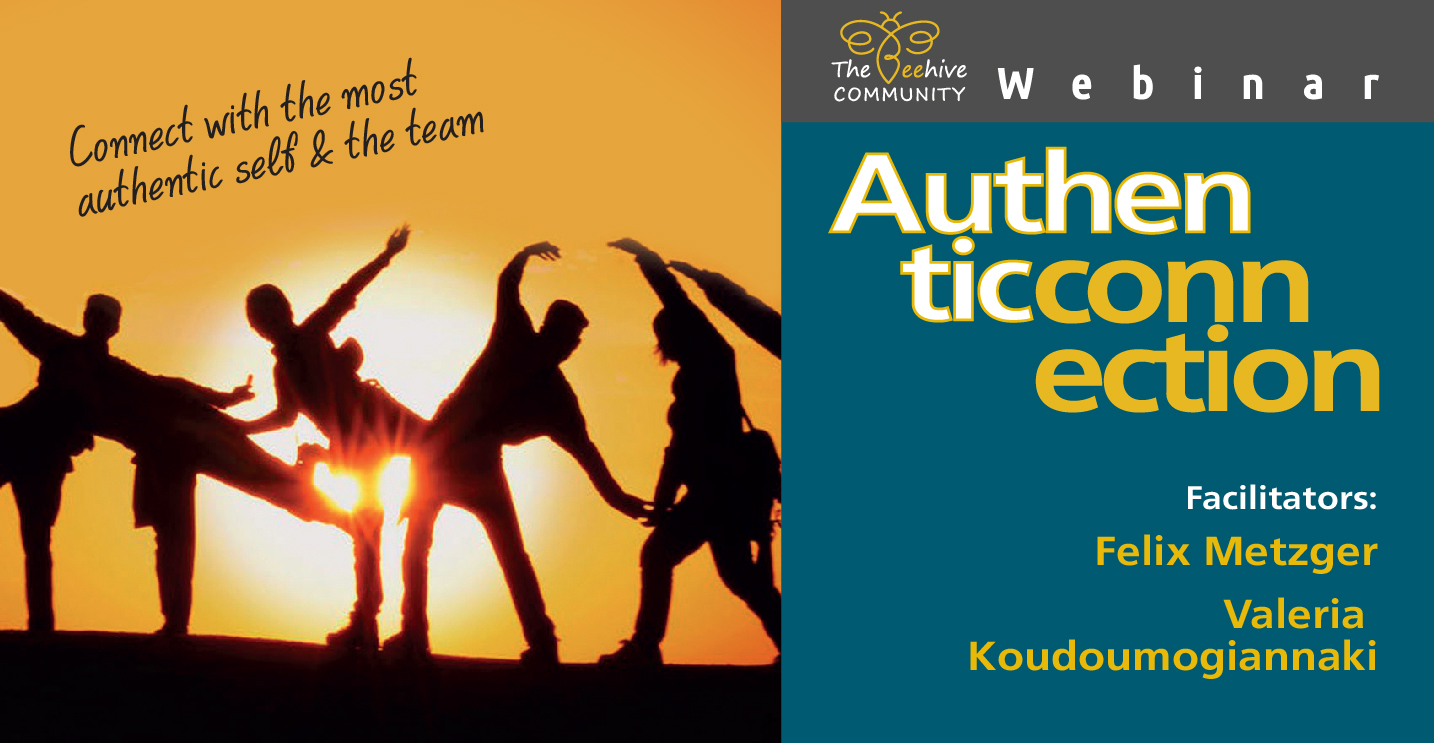 Possitive Psychology combined with Improvisation Theater & Dance
Connection & Emotional Bond

Practical Exercise
The webinar Authentic Connection is dedicated to connecting and emotionally bonding people through play and meditation. Here, the theory and practice of positive psychology and the scientific theory of psychological well-being are combined with the possibilities offered by improvised theater and dance. Through experiential exercises we will learn how to get to know ourselves and our fellow human beings better, how to improve our relationships and work together with a pleasant flow. Therefore we can become more authentic and enjoy everyday life more.
Online meetings will take place every other Friday 7-9 p.m. Each meeting will focus on a key theme. See the program of the cycle here:


08/01/21:
Self-knowledge – consciousness
22/01/21:
Free expression
05/02/21:
I share from the bottom of my heart
19/02/21:
Culture of Care. How do we cultivate it?

We will be glad to continue with new themes, considering the will and need of the team!
The webinar is addresed to you if:
You think healthy and empathetic communication is important?

Y

ou want to have deeper and more substantial relationships?

You believe that authenticity brings social change?

You want to get in touch with the essence of cooperation and horizontality?
Then this workshop is for you!
It helps us to:

To see ways that will help us become more open, with more empathy and mental resilience

It offers a better awareness of yourself and the relationships you have with your fellow human beings

Helps to see ways to create social conditions, based on respect, trust and unity between us
The cost of one session is 20 €.
If you have difficulty paying, contact us or mention it on the entry form.
Λίγα λόγια για τους συντονιστές
Felix Metzger studied Sociology and Philosophy and completed a Master's Degree in Sociology at the Albert-Ludwigs-Universität Freiburg in Germany as he discovered his passion for Improvisational Theater. In 2017 he moved to Greece and started coordinating Improvisation Theater seminars at the self-organized Theater Empros and became a member of a Contact Improvisation dance group. He is a founding member of COINSEP The Beehive Community, which offers workshops on self-awareness, Care Culture and Social Change.
Valeria Koudoumogiannaki is a Psychologist with a license to practice, with a degree in Philosophy from Athens with a vision of social change. He has participated in various groups in the ecosystem of KALO, such as FairCoop, the Integrated Cooperative of Athens, in the organization of the festival of Solidarity and Cooperative Economy and then the Commons. He has a master's degree in Positive Psychology and Coaching Psychology, while for the last 8 years he has been working with alternative methods of therapy. Her dream is to apply the science of psychology to build a society based on collaboration and solidarity, open and free especially for the queer community.
Our seminars are based on the Culture of Care
The Culture of Care is about social awareness, building resilience and mental flourishing. We create the emotional space to help people get to know each other better and connect with empathy. It also encourages the understanding of their limits and their psychic powers. The needs of each individual are recognized, so that everyone is present with all their being, to open up and interact with confidence. Modern society promotes competition and exploitation of others. With this seminar we see the imprints of capitalism on ourselves and our team. We understand that in order to evolve, we need to do it together, through our heart, mind and soul, in unity. Thus, through it, we develop and solve the issues that concern us.