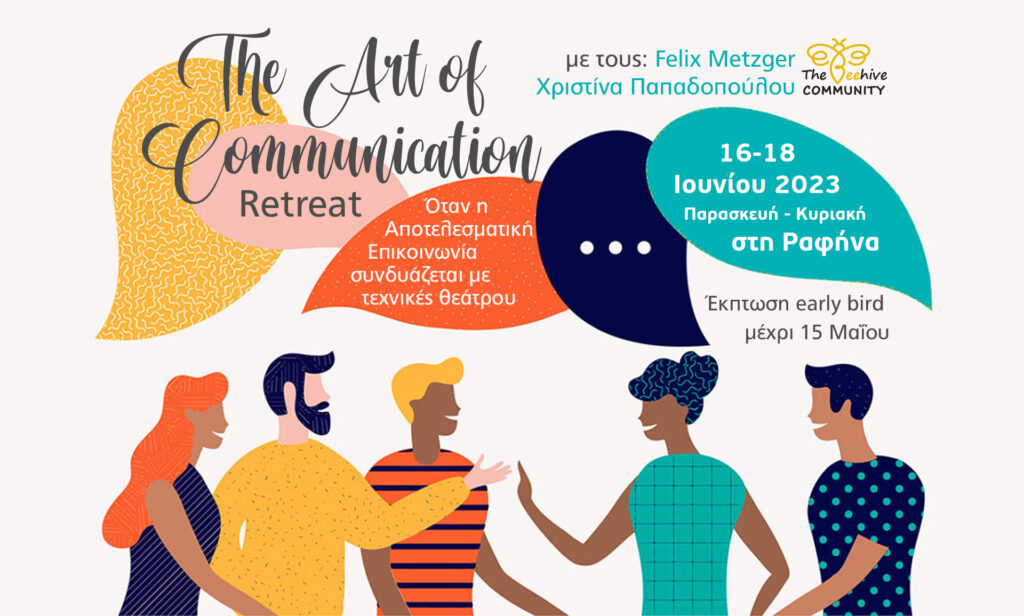 Αποτελεσματική Επικοινωνία σε συνδυασμό με τεχνικές θεάτρου
Θεωρία

Practical Exercise
The Art of Communication Retreat
When Effective Communication embraces Theatre 
Effective Communication empowered by Theatre techniques.
Weekend seminar of The Beehive Community with Felix Metzger and Christina Papadopoulou in Rafina on the 16/17/18th of June 2023.
We would like to communicate to you something, which is that communication never ends being one of the most important aspects of our lives. It gives us the possibility to be in harmony with others and with the self. Knowing how to communicate your needs and listen to those of your peers is crucial in order to live a healthy and beautiful life.
This is why we invite to: "The Art of Communication retreat" everyone of you that has the self-knowledge that you can do even better. Better communication also means a better life with family, partner, friends and co-workers.
In the seminar we will get to understand:
How can we transform ourselves into active listeners, non-violent speakers and have body language connect us in a positive way?
How Active Listening and Non-violent Communication can support this transformation and help us experience change in ourselves and in the society
How can Improvisation Theatre become that tool that will help us put the theory of effective communication into practice? This type of theatre allows us to explore ourselves and our relationship with those around us in a fun and liberating artistic way.
How can we give the necessary quality time to listen, to express ourselves, to empathize with each other even in difficult moments?
So we invite you for a weekend at the beautiful a lovely house close to the sea in Rafina. We will  recognize our communication difficulties, the obstacles and to start together the journey of a positive reset of our communication. Together we will learn how to improve our communication skills, we will share, play, connect and we will enjoy the always bright sun and the Mediterranean sea of Attica.
Price of the retreat:
For those who book and pay until 15th of May the total cost is 100€ including food and accommodation. After that date the total cost will be 125€.
The fields of education
LISTENING 
Knowing how to actively and empathetically listen to the needs and opinions of our fellow human beings, whether we agree or disagree, is a vital skill to connect deeply with those we desire and helps us live a healthy, harmonious, beautiful life. 
SPEECH 
Can we share our thoughts, feelings and experiences? Do we know how to verbally communicate our point of view and ideas in an inspiring, clear, authentic and non-violent way? 
BODY LANGUAGE 
How does our body and face communicate when we speak, listen or be silent? Non-verbal communication is extremely underestimated in western societies, but by exploring it we can learn a lot about how, why we communicate in specific ways, but also in what ways we can avoid misunderstandings and conflicts that arise from it. 
Facilitators
Felix Metzger studied Sociology and Philosophy and earned a Master's degree in Germany as he discovered his passion for Improvisation Theatre. In 2017 he moved to Greece and started coordinating Improvisation Theatre seminars at the self-organized theatre Embros while studying at the Improvisation Theatre school Improvibe. For The Beehive Community he coordinates the Improvisation Theatre workshop held at the Quilombo Cultural Center and Authentic Connection workshops with Valeria Koudoumogiannaki. 
Christina Papadopoulou was born and raised in Athens. She studied Marketing, Communication and Advertising in Athens and Business Administration in London. She has attended seminars and workshops on self-improvement and at the same time has been trained in the retreat center of Ulex in Catalonia to coordinate workshops aimed at strengthening, resilience and enhancing the communication skills of individuals and groups. For The Beehive Community she coordinates Effective Communication workshops. 
Who we are
The Beehive Community is a new social cooperative. In May 2018 we united with the common vision to offer, through the Beehive Community, a safe space of expression to individuals and groups who want to improve the way they interact with each other and those around them. Personal improvement workshops for Social Change! 
Bees as symbols of solidarity, creation and fertility are the most important creatures on earth. If they disappear, humanity will also disappear. Bees operate in thriving and prosperous communities … that is what we seek! 
The person from the moment of conception and birth, later in childhood – adolescence and as an adult has by nature the need to belong to a whole / group / community, where there s:he can equally express himself, to create, share emotions and compose in an authentic and positive way the life inside and outside the group. 
We are building this community, The Beehive Community, slowly and steadily. We offer self-improvement workshops for everyone (Effective Communication, Authentic Connection, Improvisation Theatre) and Montessori webinars for parents.