Ο  Φέλιξ Μέτζγκερ σε ελεύθερη μετάφραση Ευτύχης Χασάπης, γνωρίζοντάς τον θα συνειδητοποιήσεις ότι με τη γέννησή του  αναβάθμισε ενεργειακά το επίθετό του  καθώς φέρει ευγενική όψη, προσωπικότητα και έκφραση τιμώντας δε, το χαρούμενο όνομά του. Θα τον συναντήσεις σε αίθουσες αυτοσχεδιαστικού χορού και θεάτρου, όπου θα εκφράζεται δημιουργικά ως καλλιτέχνης αλλά και σε κοινωνικά δρώμενα προστασίας του περιβάλλοντος, αδύναμων ομάδων, κοινωνικής αφύπνισης, ανάπτυξης και βελτίωσης ως ακτιβιστής. Είναι κοινωνιολόγος, χορευτής και ηθοποιός, ιδρυτικό μέλος της The Beehive Community. Παραδίδει μαθήματα Αυτοσχεδιαστικού Θεάτρου και Αυθεντικής Σύνδεσης με τον εαυτό και την ομάδα.
If you want to get some of his quality follow him here!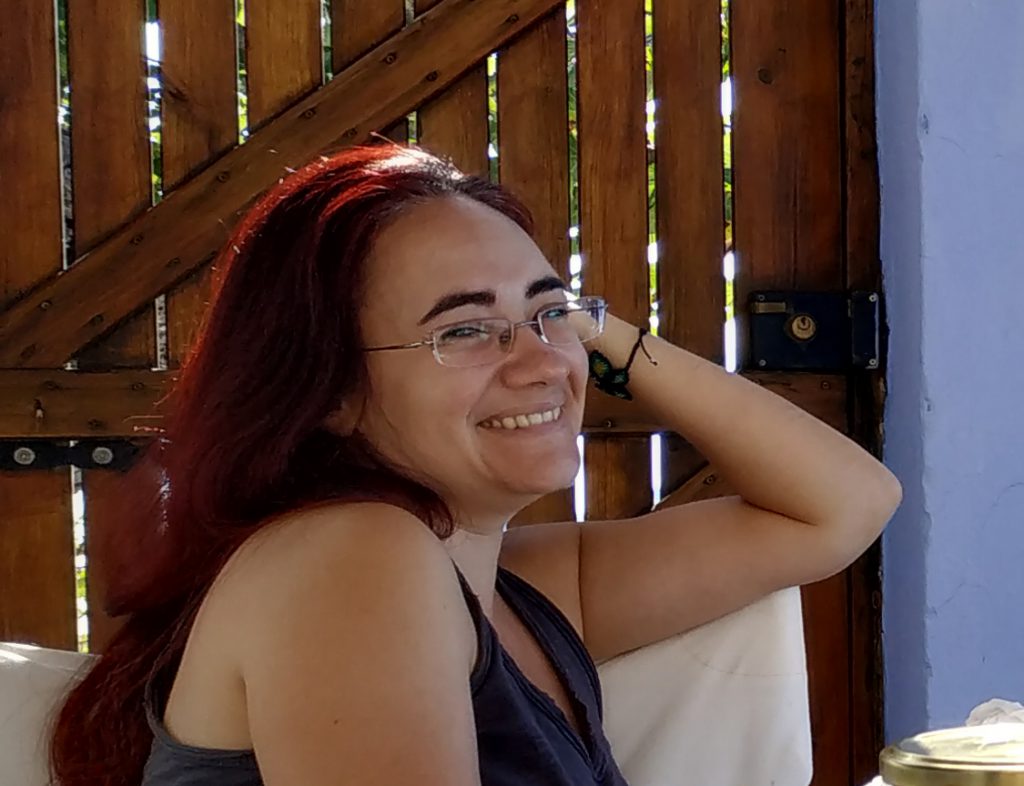 Η Ειρήνη Μανωλούδη, γνωστή στην ομάδα μας ως η κυρία με της Καμέλιες δίνει έναν αριστοκρατικό τόνο κλασσικής παιδείας, αλλά όχι και θρησκευμάτων. Είναι Μαία, και ξεγεννάει από  παιδιά έως ιδέες στον φυσικό και πνευματικό κόσμο. Θεραπεύει προγεννητικά και περιγγενητικά τραύματα βάζοντάς σε να περάσεις τον λαβύρινθο της γέννησης και τη ζωής σου.
She herself, who is a goddess fatal woman, researches in depth the ancient Greek Philosophy. Her ardent desire is to behave like 5 (five). If you want to know what this means follow her here!
Also a founding member of The Beehive Community
She was born in 1978 in Greece. She studied Communication & Marketing in Athens and Business Administration in London.
Since 2011, she has been very active in groups and organisations that work for social change  and a better life for all beings through educational programs. She has organised festivals, workshops and coordinated Erasmus Plus programs for adults. She believes that resilience, self awareness, deep communication, empathy, self management, horizontality, social solidarity economy, care of nature, eco community building and culture of care are key elements for achieving social change that benefits all of us, the next generations of all beings and GAIA. She is a founder member and the legal representative of the Social enterprise, The beehive community.
Eleni Karakatsani is a graphic designer with visualize skills on the screen, paper and the inner world. Her visions have nothing to envy the Hollywood blockbusters and they also appear in serials as she meditates or dances at the Physical Theater. Soon she will be able to transmit to you the therapeutic, soothing, enlightening research for the images within you by imprinting them on paper, by expressing them on the body, and by shaping them with a voice!
If you want to shout, jump, act like a baby or like a beast and then understand why follow her here!
And yes.. she is also a founding memeber of the Beehive Community. (that's all falks, we finished)
Ο Φέλιξ εχει αγκαλιά και την Ελένη κ τη Χριστίνα. Ειρήνη ζήλευε!!