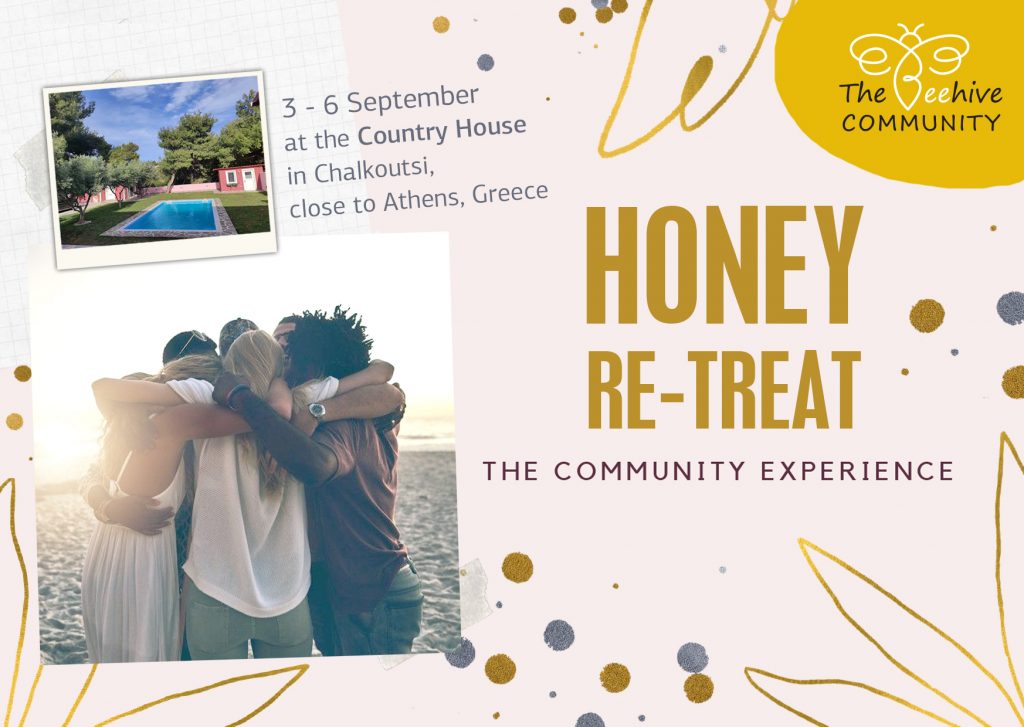 At a glance

Manifest the

Spiri

t, the Heart and the Body
Tools and Practices
Holistic community experience
Non Violent Communication practices
Unique spiritual experiences
Deep Sharing and Active Listening 
Improvisation Theater
Bonding experiences
Rituals for community building
Mindfulness practices
Benefits for the participants
Experience life in a community where is manifested:
Safe space
Sense of belonging
Self & Social awareness 
Culture of care
Individuality & Togetherness
Bonding and Cooperation
Develop skills for healthy interbeing and coexistence with the self, the group, and nature 
Communication skills and empathy
Spirituality as a part of everyday life
Arts as a tool of sharing, expression and liberation
Have fun and enjoy summer together
Relaxing & recharging
Liberation from stress and anxiety
Escaping confinement and loneliness
Mission:




Develop the self within the flow of a becoming community
Honey ReTreat |
The Community Experience
This year more than ever it's important to unlock ourselves from isolation, fear and stress.
So, let's experience connection, empathy and have fun!
We will escape to a serene location, unplug from chaos, busy work schedule and live with a small group of people in search of being part of a community, learn and have a good time together.
We invite you all to a beautiful country house at the seaside, close to Athens in Greece. 
In our 'beehive' in Chalkoutsi, we will have the opportunity to meet new people, to share, have inspiring conversations and to experience how the self can be nurtured, supported and flourish, when we connect deeply and co-create beautiful moments. We will appreciate how many things we have in common, we will take care of ourselves and our community.
Our goal
Our goal is to be transformed into human bees and produce the community's 'Honey'. 
Our sessions create the opportunity to bond, to play, to self explore mindfully, to learn communication tools and practical ways to manage our emotional, mental and physical wellness. We will be part of a community where culture of care, creativity, empathy and collaborative thriving is manifested through practice and experience.
Heart, Mind and Body in tune within a beautiful natural flow, create an authentic and unique life experience, that leads us from the 'I' to the 'We' and accompanies us in our later life.
We will leave feeling inspired, refreshed, connected and empowered to take on whatever comes next!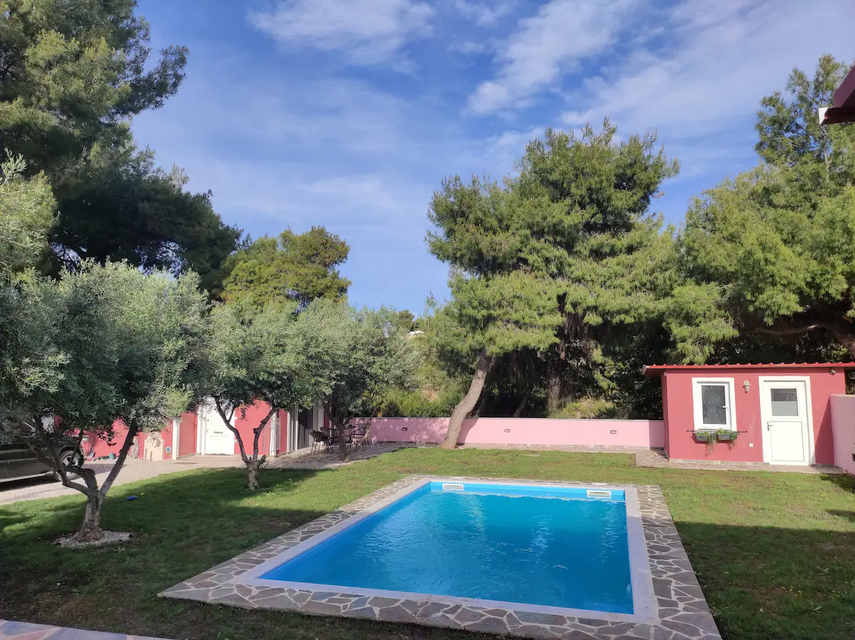 Accommodation
Beautiful villa Country House (see photos here) in Chalkoutsi, close to the sea in a quiet beautiful area.
The villa can host 12 people. There are 2 bathrooms, fully equipped kitchen, washing machine, a swimming pool and a beautiful outside space.
There are 4 double beds, 3 semi double sofa beds
Chalkoutsi
Chalkoutsi is a small seaside town in Oropos  in the North part of Attica, 45 km from Athens. 
Friday
15:00 Arrival
16:30 Welcoming session
18:00 Bonding session
21:00 Dinner
Saturday
8:30 Body work
9:00 Breakfast
10:00 Check-in
10:30 2 sessions of Active Listening & NVC
13:30 Lunch and free time
16:30  Session on "The me and the you"
18:30 Improvisation Theatre session
21:00 Dinner
Sunday
8:30 Body work
9:00 Breakfast
10:00 Check-in
10:30 Session on "What is in between us"
13:30 Lunch and free time
16:30 Theatrical active Listening session
18:30 Closing ritual
21:00 Dinner
Departure on Monday morning

Costs
320€ standard price, all inclusive
280€ for "early bees" that are booking a place until 31/07
For members of our community – people that have already joined workshops of ours – we are offering places for a better price, please get back to us in this case ([email protected])
Until 17/8 the full amount must have been transferred to one of our payment options.
Includes: 
3 nights Accommodation
Breakfast, Lunch & Dinner (vegetarian and vegan) for 3 days
3 Sessions of Active Listening & NVC
3 Sessions of Improvisation Theatre and Bonding
2 Sessions of Spiritual practices
2 Ritual Ceremonies

The Beehive Community
Who is facilitating? 
Eirini Manoloudi manifests the spirit of the retreat.
Eirini Manoloudi is a midwife that has studied prenatal and perinatal psychology. Her big love, admiration and studies of Greek philosophy have driven her to proudly offer accordingly strong spiritual practices. Her contribution to this retreat are the sessions and practices of spirit and soul given in a special way, as one of her teachers say "philosophy in action"! She believes that in order to create strong and thriving communities, virtues must be in practice in body, heart and mind.
She is a founder member of the Social enterprise, The beehive community.
Christina Papadopoulou manifests the heart of the retreat.
She was born in 1978 in Greece. She studied Communication & Marketing in Athens and Business Administration in London.
Since 2011, she has been very active in groups and organisations that work for social change  and a better life for all beings through educational programs. She has organised festivals, workshops and coordinated Erasmus Plus programs for adults. She believes that resilience, self awareness, deep communication, empathy, self management, horizontality, social solidarity economy, care of nature, eco community building and culture of care are key elements for achieving social change that benefits all of us, the next generations of all beings and GAIA. She is a founder member and the legal representative of the Social enterprise, The beehive community.
During the retreat she will facilitate sessions related to Active Listening and Non Violent Communication practices. Let's connect our hearts in a safe authentic space, listen, feel, speak, share, respect, enjoy.
Felix Metzger manifests the body of the retreat. 
Felix Metzger studied a Bachelor of Sociology and Philosophy and a Master of Sociology in the Albert-Ludwigs-Universität Freiburg in Germany, meanwhile discovering his passion for Improvisation Theatre. In 2017 he moved to Athens where he started facilitating Improv Theatre workshops and diving deeper into Improvisation Arts and its connection to and potential for social change. As a co-founder and member of The Beehive Community, he is offering Improvisation Theatre classes and Bonding workshops for individuals and groups that are interested in getting to know themselves and each other better. For him, play is key to learning to accept, respect and love each other in a way that benefits everyone by having fun. No better world is being created without enjoying what we are doing!